Today when trying to put in some individual battery wires I noticed a star lock washer in between the lead of the post and the wires lug. It looks like just plain steel or perhaps some zinc but it is very corroded.
Originally I think it was one of these before it got all corroded.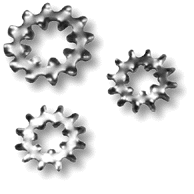 I'm pretty sure this is a bad thing/mistake the dealer made when installing the original batteries or when they replaced the batteries at less than 30 hours? I've always just had the battery wire lug sit directly on the lead terminal perhaps with some goo of some sort squished in to keep water out and a belville(sp?) washer on top of the wire lug and under the nut. There is no reason to leave those there right? I've looked at the hustler blog and though there isn't a perfect view to tell the terminals don't have any dents like mine now do because of the lock washer.
can't seem to get the img to embed reliably but hopefully these links work.
https://drive.google.com/file/d/0B9C5IqlxHjBdcUFPeWFCVzZXMTY0TnA5YU9zV2FhRml3dG1n/edit?usp=sharing
https://drive.google.com/file/d/0B9C5IqlxHjBddER2Zl9taWQ5SVlqWHdpa2lsaGk1SVljQnVF/edit?usp=sharing